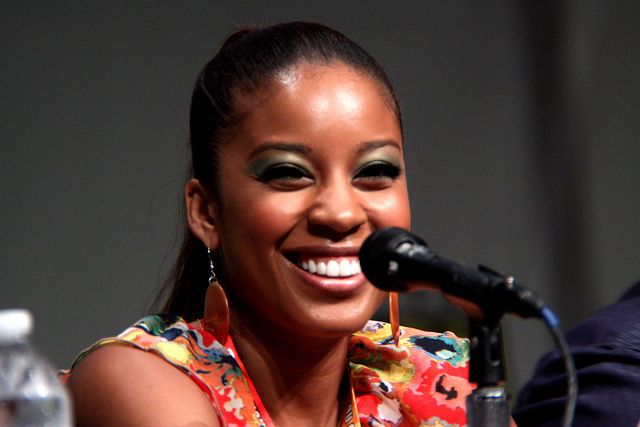 We love when YBF folks take matters into their own hands. And fab actress Reagan Gomez has, for years, been privy to the lack of acting roles and opportunities in film & tv for black actors. So she's doing something about it and has created yet another webseries where black actors can flourish.
Check out the trailer for her "Almost Home" webseries inside, plus Trey Songz speaking on why it's his mission to get his fans to vote…
Reagan sent over the following trailer fo her new upcoming webseries Almost Home that she wrote, produced and starred. She said, "We have to start making these films, that we want to see, happen on our own. I'm trying to do my part. Hope you enjoy:) ."
Matthew Cherry directed the series, and also directed Lance Gross' film The Last Fall. And both will be starting a KickStarter campaign next week to get funding for the production of the full feature.
Reagan tapped her hubby DeWayne Turrentine, his brother DeJuan Turrentine, Wesley Jonathan, Denyce Lawton, Jackie Long and more as her co-stars. Here's the synopsis:
After the death of their mother, Lisa and DeJuan decide to live out her dream and move to sunny, California. Lisa quickly finds a job while DeJuan gives up engineering school to become a singer. All seems well, but old troubles find them…mainly, Lisa's abusive fiance?. Lisa learns to embrace her stronger self, while DeJuan learns a little responsibility isn't such a bad thing.
The fab mommy of two tweeted moments ago about why she's making these moves on her own (including her previous webseries This Time):
My main goal is to continue acting, but also create more QUALITY roles for actresses of color. I'm starting small. The short. A webseries…

But Godwilling, with your help through kickstarter, we'll be able to make the feature version of #ThisTime. Time to be about it!!

We all have frustrations with Hollywood and the lack of roles for us. Can't keep complaining. Gotta be about it. I'm trying to do that;)
Word. By the way, the multi-talented fab chick is gearing up for her October premiere of Fox's animated sitcom "The Cleveland Show," where she's the voice of 'Roberta Tubbs'.
While Reagan is also a political advocate for the America For Obama campaign (and doesn't hold back on Twitter about her political views), Trey Songz has taken on the mission of getting his fans to vote.
Instead of just telling them about sexing, partying, popping bottles and saying Ahhh, he's telling them why it's hot to VOTE. So he teamed up with OurTime.org, a non partisan group, to get out the vote.
The OurTime.org team of celebrities also includes Lady Gaga, Will Smith, Chelsea Clinton, Will.I.Am, Jessica Alba and many more to raise awareness and get people registered to vote.
Source: http://theybf.com/2012/08/28/good-ish-reagan-gomez-debuts-her-new-webseries-almost-home-trey-songz-urges-fans-to-vote
Amber Valletta America Ferrera Amerie Amy Cobb Amy Smart Ana Beatriz Barros Ana Hickmann Ana Ivanovi Ana Paula Lemes Ananda Lewis