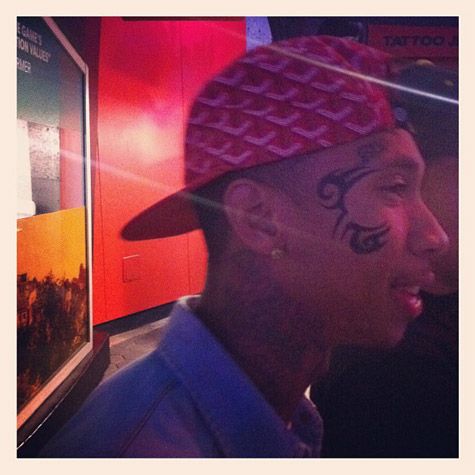 Rapper Tyga is sporting a face tattoo that's very similar to the one made famous by Mike Tyson. And looks equally as stupid to be honest. Get the deets inside…..
It might just be his way of celebrating Mike Tyson's Broadway debut…or Tyga really needs some attention. The rapper tweeted a pic of himself, over the weekend, with a face tattoo that has fans scratching their heads.
The words "Fuck it #YoLo," accompanied the inked up pic which many people think is "temporary." And we hope it is too. Welcoming a new baby into the world with that ish on your face could scare that youngin' in the delivery room.
Sources say he was at Universal Studios earlier on Saturday and his face was without the ink. Sigh……
Maybe he got the ink before he left Universal Studios. Everybody loves a good face painting!
The Randomness:
1. Must be nice! LL Cool J comped a table of total strangers' meals at Mr. Chow in Beverly Hills last night. STORY
Source: http://theybf.com/2012/08/06/has-yolo-gone-too-far-tygas-face-tatt
Ivanka Trump Izabella Miko Izabella Scorupco Jaime King Jaime Pressly Jamie Chung Jamie Gunns Jamie Lynn Sigler Janet Jackson January Jones