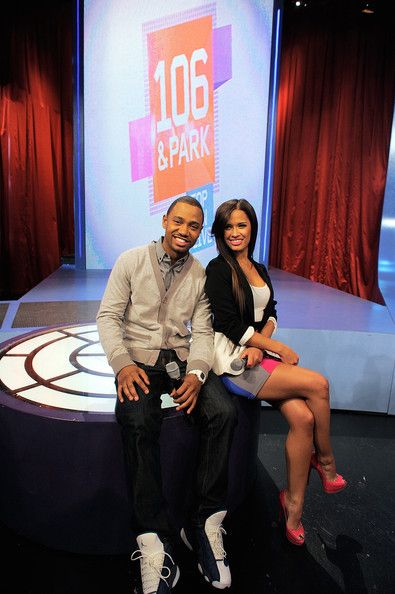 It's been 7 years. And the second set of hosts for BET's flagship show, "106 & Park," have officially chucked deuces. Rocsi Diaz & Terrence Jenkins confirmed the rumors that have been swirling–they're leaving. And the twosome made their formal and tearful announcement live on tonight's show. Deets inside….
During an emotional announcement tonight, Terrence told the audience:
We have decided together that we will soon be leaving '106 and Park' as your hosts. This by no stretch of the imagination was an easy decision. But it's the right one. It's come after a lot of prayer, a lot of thought, and a lot of consideration.
Telling the viewers about being surprised by how successful the show became, Rocsi said:
We had no idea–we can't even express how amazing these seven years have been and how life changing they've been. We appreciate you guys so much.

A final show date for the two hosts has not been announced, but Terrence did say they will have a huge farewell. Terrence has a budding movie career having just starred in this spring's blockbuster film Think Like A Man. And he also made a surprise guest hosting appearance on E! News last week. While the E! network said his was simply a one-off guest hosting gig, it's hard not to think it was also a trial run to see if Terrence and his personality could work for the E! audience and alongside host Giuliana Rancic.
He did pretty well too.
Rocsi is hoping to get into more of the Hollywood movie life as well–both in front of the cameras and behind them (with her writing).
BET's President of Programming, Stephen Hill, sang the hosts praises today saying:
"Today, after seven exciting years, 106 & Park hosts Terrence J and Rocsi announced that they will be leaving the show. It is no secret that there are a number of opportunities coming their way and we're fortunate that they've been with 106 & Park for so long. They will be staying on the show for a while, so that we can have a "victory lap" — a celebration of their years at the helm of 106 & Park — before their departure. Terrence J and Rocsi are destined for great success and we at BET Networks will always take pride in being their original home — and be a place where I hope they'll always feel welcome."
Well finding replacements will be interesting….
Source: http://theybf.com/2012/05/29/its-official-106-park-hosts-terrence-rocsi-announce-they-are-leaving
Gwen Stefani Halle Berry Hayden Panettiere Haylie Duff Heidi Klum Heidi Montag Hilarie Burton Hilary Duff Hilary Swank Isla Fisher