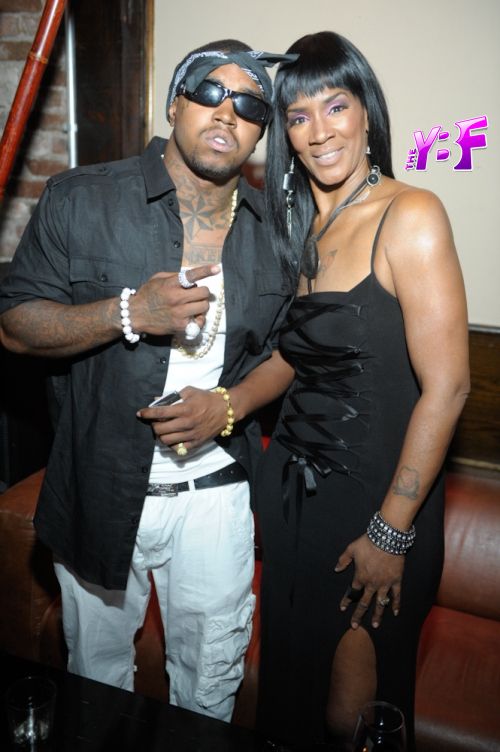 Lil' Scrappy, pictured above with his mama and co-star Dee, stopped by Power 105.1's "The Breakfast Club" where he dished on "Love & Hip Hop: Atlanta," the Erica Dixon/Diamond love triangle and what he really thinks of Stevie J and Joseline Hernandez. Listen inside…….
Lil' Scrappy chatted it up with The Breakfast Club this morning where he talked about his reality show drama with his "Love & Hip Hop Atlanta" co-stars and broke down his love life.
First, he says he never cheated on baby momma Erica Dixon because they were broken up when he got with Diamond. Erica told us the same thing during our interview with her before the premiere of the show.
Although they are together now, he complained–on the show–that Erica still has a problem giving him the affection he needs.
When asked about his relationship with rapper Diamond, he said he was most upset about the fact that she embarrassed him and cheated with Soulja Boy for all the world to see. Yes, that could be embarrassing. Oh, and Scrappy also alludes to buying Diamond an ass. Seems like the thing that bonds all the "LAHH ATL" cast…
He then revealed that he will have a scuffle with Stevie J on the show (which we see a bit of in the previews)…but he brags that he did MOST of the swinging. And when it comes to Joseline Hernandez, although he didn't outright say he thinks she is a man, he did refer to her as "it" throughout the chat. He also added a funny story about Joseline pumping iron at the gym….like a man.
Watch the interview in full below:
Source: http://theybf.com/2012/06/25/lil-scrappy-dishes-to-the-breakfast-club-on-diamonds-cheating-fighting-stevie-j-if
Zooey Deschanel Aaliyah Abbie Cornish Adriana Lima Adrianne Curry Adrianne Palicki Aisha Tyler Aki Ross Alecia Elliott Alessandra Ambrosio