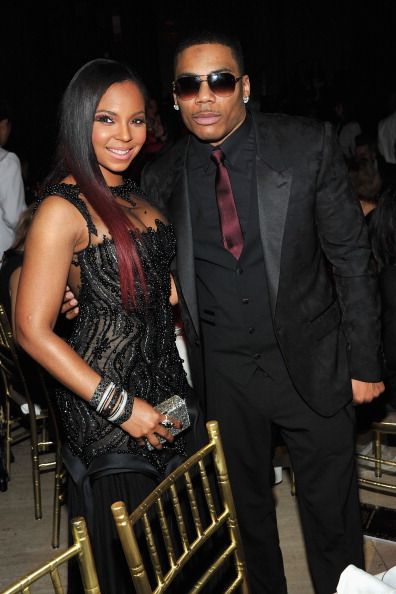 Rapper Nelly hit up Baltimore's 92Q radio station this week to have a chit chat about rumors. Apparently Nelly has been pegged as a coke head…and even though he's been spotted around his home town of St. Louis with Ashanti, he's rumored to have fallen out with her over money.
Check out his answers inside…
Nelly cleared up a few rumors yesterday during his interview on Baltimore's 92Q on "The KO Show."
About those rumors he's heavily into cocaine and heavy drug use, he denied it saying he's "bad drug free." Alrighty. Even if he was taking sniffs….would he really admit it?
And about his 10+ year relationship with Ashanti that he still refuses to outright claim, he kept up the coyness. After the radio host brought up the fact that we saw pics of the twosome chillin' around St. Louis as recent as a few weeks ago, Nelly responded, "We're pretty cool."
Well isn't that romantic…
There were also some rumors about Nelly Ashanti "breaking up" due to Nelly owing her $500,000. Aside from the fact that sounds totally foolish (we know somebody's about to ask if Ashanti had half a million to lend to him in the first place), it's pretty clear this rumor is false. Nelly laughed…hard…about it. And said him owing Ashanti money is indeed false.
Check out the interview in full HERE.
The Randomness:
1. Pastor Juanita Bynum exposes her "abusive past" and says she slept with women. STORY
2. Actor Michael Clarke Duncan is expected to make a full recovery after suffering a cardiac arrest last week. He is now on a respirator and doctors are reportedly optimistic about his improvements. STORY
Source: http://theybf.com/2012/07/18/nelly-speaks-on-ashanti-relationship-says-theyre-pretty-cool-debunks-cocaine-money-rumors
Brittny Gastineau Brody Dalle Brooke Burke Brooke Burns Busy Philipps Cameron Diaz Cameron Richardson Camilla Belle Carla Campbell Carla Gugino