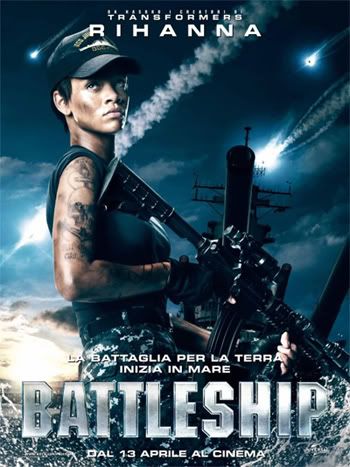 Battleship star Rihanna (shown above on the movie's Italian promo) recently sat down with London's "The Jonathan Ross Show" where she sang the praises of Adele and admitted that she thinks "the single life is orrated." Get the deets inside…..
It seems as though Rihanna is ready to move on to a new relationship (and a new career focus) as she was recently quoted talking about how much she hates being single.
On her taped "Jonathan Ross Show" appearance in the UK this week (airing tomorrow), she said,
"Single life is so overrated. It sucks. I have such incredible experiences in my life. You don't want to live your life and then meet someone. You want to share your life with someone. That's what I'm missing right now."
So what type of man is she into? She said she wants someone who is "…cool, fun, funny."
And Rihanna also stanned for Adele (don't we all?) during the interview. She said,
"I saw her at the Grammys and I love her. I'm a big fan. … Her last album, 21, spoke to me so much. It was so personal to her, but I feel like everyone in the world identified with it, to the point that I had to stop listening because it was depressing me so much. If you identify with it, sometimes you don't want to hear about it."
But while she is searching for love, Rih will give music a break focus on her acting and other projects, saying:
'I just want to pick films that are wise for me and roles that I can pull off, nothing that is too big for me." She added, 'I love doing movies now. It's something I want to do more of."
Rih just flew back to L.A. from London last night.
Catch Battleship when it's released on May 18 in the US!
BONUS:
Ricky Martin and Nicki Minaj were recently unveiled as new faces for MAC Cosmetics Viva Glam worldwide. Now check out their official promo poster above.
Photos via WENN
Source: http://theybf.com/2012/03/02/rihanna-sings-adeles-praises-says-the-single-life-is-overrated
Adrianne Palicki Aisha Tyler Aki Ross Alecia Elliott Alessandra Ambrosio Alexis Bledel Ali Campoverdi Ali Larter Alice Dodd Alicia Keys