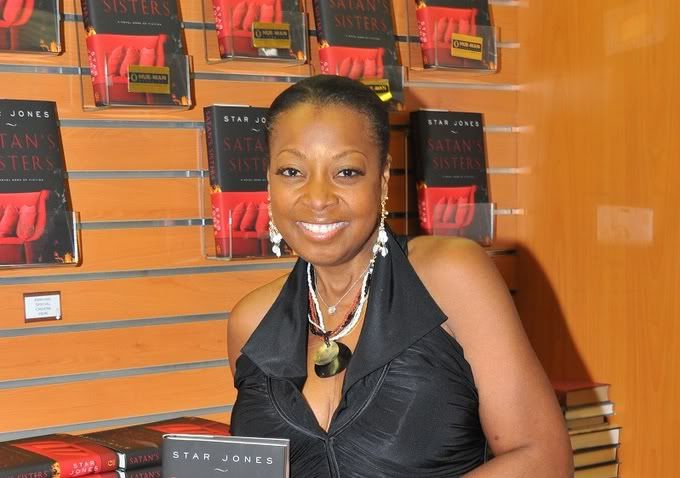 Star Jones and Wendy Williams will be hooking up to turn Star's book "Satan's Sisters" into a made-for-tv film for VH1! Deets inside….
As VH1 continues to add steamy tv movies/shows to its lineup, we've found out that Star Jones' dishy book "Satan's Sisters" is next up to bat. Star will be linking up with talkshow diva Wendy Williams and legendary film and music executive Suzanne de Passe for a made-for-tv movie about the book that is set to become a tv series.
The project will be produced under the "Wendy Williams Presents" banner and follow the lives of several female co-hosts on a popular talkshow similar to Star's ex job "The View." And with Star being besties with such fab actresses as Lela Rochon and Vanessa Bell Calloway, you know the casting will be well played.
By the way, Star's name is also in the mix today after comments she made about Anderson Cooper coming out of the closet just for ratings. She said,
He's a daytime talk show host and when the rating slip in daytime, the hosts tend to tell you lots of things about them.'
She added, 'I remember Oprah said she smoked crack, Oprah said she was pregnant at 14 and considered suicide. There [are] times when you generate information for ratings.'
Hmm….Star may be right but she just totally called Anderson out for throwing up a Hail Mary to get ratings. Play nice Star!
Watch the comment at (4:18):
Source: http://theybf.com/2012/07/05/tv-fab-star-jones-turns-satans-sisters-book-into-tv-moviewith-wendy-williams-producing
Eliza Dushku Emilie de Ravin Emma Heming Emma Stone Emma Watson Emmanuelle Chriqui Emmanuelle Vaugier Emmy Rossum Erica Leerhsen Erika Christensen