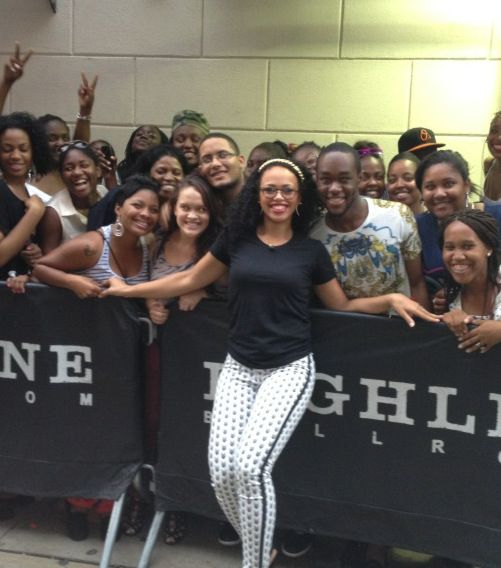 Elle Varner celebrated her Tuesday release of her debut album Perfectly Imperfect last night. And she took over the stage at Manhattan's Highline Ballroom. Check out the newbie we're loving cover Brandy's "I Wanna Be Down," plus Wiz Khalifa stopping by "Chelsea Lately."
R&B singer Elle snapped a pic with her fans who were lined up outside of Highline Ballroom to catch her performance. And the YBF chick didn't disappoint.
The L.A. gal performed her singles "Only Wanna Give It To You", "Refill" and "I Don't Care". And she took it back to the 90's by performing Brandy's "I Wanna Be Down". With her own twist. Check out a few vids below:
Her album is currently # 1 on iTunes.
Meanwhile, over in L.A., rapper Wiz Khalifa chatted up Chelsea Handler for her E! late night talk show:
Wiz had the girls screaming on Chelsea's show. He explained Wiz is just a nickname and his real name is Cameron. He named his new album ONIFC because, as he says, "he's always the only n*gga in first class."
He also gushed about his dad who he's really close too, even though his parents have been split since he was younger. And Wiz credits his dad with introducing him to a studio and getting serious about his music. Sweet!
Source: http://theybf.com/2012/08/10/videos-elle-varner-rocks-highline-ballroom-covers-brandy-wiz-khalifa-hits-chelsea-lately
Eva Green Eva Longoria Eva Mendes Evangeline Lilly Eve Fergie Foxy Brown Freida Pinto FSU Cowgirls Gabrielle Union