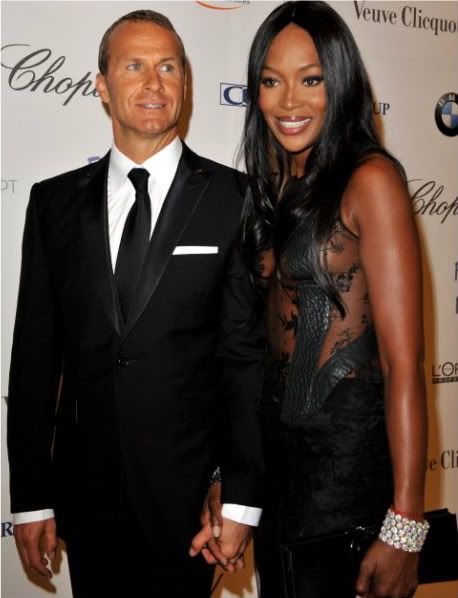 Though Vladislav Doronin and Naomi Campbell have previously claimed that his longtime estranged wife was cool with their relationship, the "soon-to-be-ex" Ekaterina, is crying foul and BLAMING Naomi for their pending divorce! Get the deets inside….
Vladislav Doronin's estranged wife, Ekaterina, claims that Naomi Campbell is the reason that she and her husband are divorcing. But wait…..before you side with Ekaterina, it's important to note that the couple had been separated for almost 10 years BEFORE Naomi and Vladislav even started dating!
Maybe Ekaterina and her lawyer think painting her as the jilted wife will get more money in a settlement. The billionaire businessmen has been dubbed the "Russian Donald Trump" amongst the business world. Hmmmm….
By the way, before Naomi enterdt the picture, Vladislav had a seven year relationship with another woman (and Ekaterina didn't have a problem with that).
A friend close to the situation said,
'Naomi is pleased that Ekaterina has finally agreed to give Vladislav a divorce, but she is upset she is planning on blaming her for the marriage breakdown. She is no homewrecker,' says a friend. 'The truth is that Vladislav had been separated from her for a very long time when he and Naomi got together.'
But Ekaterina, who has been married to 49-year-old property mogul Vladislav for 24 years (they have a daughter, Katia, 15) reportedly said recently,
'It's a ridiculous affair. Vladislav is married to me and we are still a couple. Naomi is deluding herself if she thinks she can take my husband.'
Oy…
Watch Vlad and Naomi discuss his "marriage" with Oprah back in 2010 at the (2:49) mark:
Source: http://theybf.com/2012/03/26/the-other-woman-vladimir-doronins-wife-says-naomi-campbell-is-the-reason-for-pending-divo
Camilla Belle Carla Campbell Carla Gugino Carmen Electra Carol Grow Carrie Underwood Cat Power Catherine Bell Chandra West Charisma Carpenter